SyncML Client Dektop DEMO/ODBC/Plugin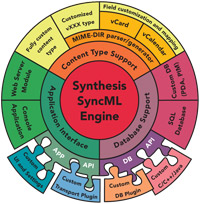 Synthesis SyncML Clients are designed to add SyncML synchronisation to existing applications with a minimum effort, and thus making them instantly compatible with any CRM, Groupware System and other application which supports SyncML.
Synthesis SyncML Clients can be directly integrated with existing SQL based applications via the ODBC by simply editing a single XML configuration file, or alternatively by writing custom database adaptor plugins in C, C++ or Java.
ODBC/SQL based and plugin based data sources can be mixed in a single setup.

Downloads
Platform

Mac OS X Universal Binary

Mac OS X Universal Binary (runs natively on both PowerPC and x86 family processors)

Downloads
Purchase Options